Tips for playing and winning at Caribbean Stud Poker
2,140 reads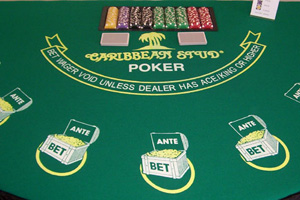 Whether you're at a fabulous beach casino down south or just wearing shorts and flip-flops around the house, Caribbean Stud Poker is one of the most popular variations of poker you'll find on the casino floor. But like all poker games, there are some tips or poker tools to help you cash in quick. Here are a few:
Avoid the progressive jackpot
Caribbean Stud, like many other casino games, has a progressive jackpot that players can add to for their chance to win a big score. However, players need to hit a hand of flush or better to win anything from the progressive jackpot. This is one of the worst wagers in the casino and should pretty much be passed up each time you play.
When to fold
Due to the rules of Caribbean Stud, which require the dealer to have a hand of Ace/King or higher to play, strategy suggests that players fold when holding a hand ranked lower than Ace/King.
When to raise
Caribbean Stud requires players to raise if they want to game to progress from their original wager. So if you bet $10 to start, you must bet another $10 to play against the dealer.
Strategy suggest that players always raise with a pair or better, but since it can be tough to make higher-ranked hands, players are also suggested to raise on hands of Ace/King when the dealer is showing a card of Queen or lower and that card matches one in your hand.
It's also suggested that you raise with Ace/King while holding a Queen or Jack and the dealer showing an Ace. Another smart move is raising with a hand of Ace/King with a Queen or Jack when the dealer is showing a deuce through five.
How to bet
Some betting strategies involved in CaribbeAan Stud is to double you wager with each win. So starting at a set amount – for example $10 – a winning hand would have the player upping his initial wager to $20 for the following hand. If that game wins, the bet it increased to $40. Once the player lose a hand, they go back to their original set amount – in this case, $10. Because Caribbean Stud has set payouts for higher-ranked hands, this can quickly build a chip stack.