Video poker's vast menu
2,291 reads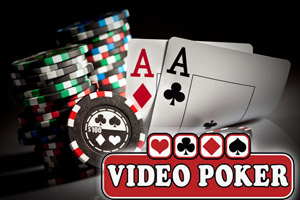 Poker remains one of the most popular casino games, whether you are sitting at a brick-and-mortar spot or logging into poker tournaments at an online casino. And the game of choice among many poker players is video poker. Narrowing down just what video poker game is for you can be tough, since there are so many variations and versions on the game available. Here's a quick breakdown of the most popular video poker options:
Jacks or Better/10s or Better
With video poker, you are randomly dealt five cards and must try to create the best poker hand you can, being able to discard and receive new cards just once. In games like Jacks or Better and 10s or Better, players must create a poker hand with at least a pair of Jacks or a pair of 10s – depending on your game – to win. A pair of Jacks or a pair of 10s will pay even money.
Jokers Wild/Deuces Wild
The same game applies to this unique variation of video poker, with players trying to make the best poker hand they can, but there is a twist: Jokers Wild and Deuces Wild will designate those cards as "wild" which means they can take the place of any card needed to make a winning hand. So a player with a pair of Queens and a Joker has three of a kind and celebrates a 3-to-1 payout. A player with a 5,6,2,8,9 has a straight, and their wager pays out at 4-to-1 odds.
Bonus Poker
There are some variations on Jacks or Better poker with added bonus for hitting a hand of four of a kind. Standard bonus poker offers players a higher payout percentage for four of a kind and double bonus poker tops up your bankroll if you come away with four Aces. Believe it or not, there is even Double Double Bonus Poker available at some casinos, which offers different payouts on four of a kind Aces, depending on what your fifth card is. Cards ranked 2, 3, or 4 along with four Aces has a 400/1 bonus payout. You can also find another added payout for four of a kind 2s, 3s or 4s when the fifth card in the hand is an Ace.